Junior Camp
30th May 2022 @ 08:00

-

1st June 2022 @ 17:00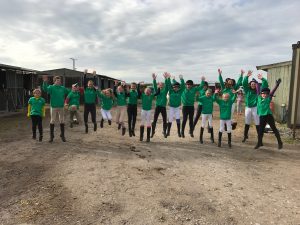 Junior camp
Open to everyone under 18 years
3 days, 2 nights of pony fun and equine education
£260 per child
All supervision, tuition, dormitory accommodation, meals, stabling and activities included in the price.
What happens at camp???
Each child is placed in a ride with up to 5 other riders of the same ability/age.
They will receive up to 4 hours of mounted tuition per day from flat work, to grids and showjumping courses.
There will be an additional 3 hours per day of Unmounted equine education & stable management per child.
On the first night of camp we will take the children to the cinema to watch a film of their choice. On the 2nd night there will be an evening of team games followed by a disco.
On the final afternoon parents will be invited to watch the children compete in a fun team competition putting to use the skills they've acquired during camp.
Our camps are tailored to be educational yet fun. We provide shared accommodation so no child has the concern of sleeping alone at camp due to not knowing anyone. We actively encourage the formation of new friendships at camp in a safe and friendly environment.
We use a small collection of friendly but highly skilled instructors including:
Erica Oldham, British showjumping level 4 coach of excellence.
Sara Gallagher, British showjumping level 2 coach, BHS level 3 coach and head pony club instructor.
Alice Hill BHS UKCC level 2 coach.
All of our instructors are very experienced (and great fun) offering a wealth of knowledge to the children. All of our coaches and camp staff are up to date with safeguarding, DBS checks and first aid training.
Children will spend time with each of the instructors during their time at camp.
To book a place at camp please contact us here or email [email protected] to check availability
Payment in full is required to secure a place at camp. This is payable by bacs to:
Messers ME & J Gay
sort 30 90 49
account 37834068